Our services:
- Cold storage and warehouse
- Refrigerated transport worldwide
- Storage and handling
- Quality control
- Release by veterinary inspector
- Container traffic
- Costums clearance
- Your specialist for transports to
the CIS-states and many more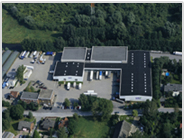 0°



-5°



-10°



-15°



-20°



-25°



-30°



-35°



-40°
Welcome to LERO
International Forwarding Ltd.
LERO International forwarding company with its home-office situated in Hamburg, is one of the leading forwarding agencies performing transports to Russia, Central Asia, the Near, Far and Mid East and also the Mediterranean area.

Our company possesses over 25 years of experience in im- and export especially concerning the worldwide food sector.

Our services are aligned to the specific conditions and requirements of the different countries as well as to the demands of our customers and their freight.

As a sucessful company we know our skills and focus on them. This concerns particularly logistics. So with the experts of LERO International Ltd. you can always rely on the appropriate partner.
Legal information

Please read our "German Freight Forwarders' Standard Terms and Conditions" here.